Details of a Rebuild
A wheel recently came into the studio due to a broken aluminum nipple. I took the time to document the symptoms as well as the process of what goes into a rebuild at Cutlass Velo.

My process isn't the most efficient but there are important steps required to ensure a solid, reliable rebuild.

The Diagnosis:
Moisture and the electrolytic relationship between aluminum nipple and carbon rim have caused corrosion and brittleness at the nipple shoulders. There is a very informative article the explains the relationship of carbon fiber and metal that can be read here.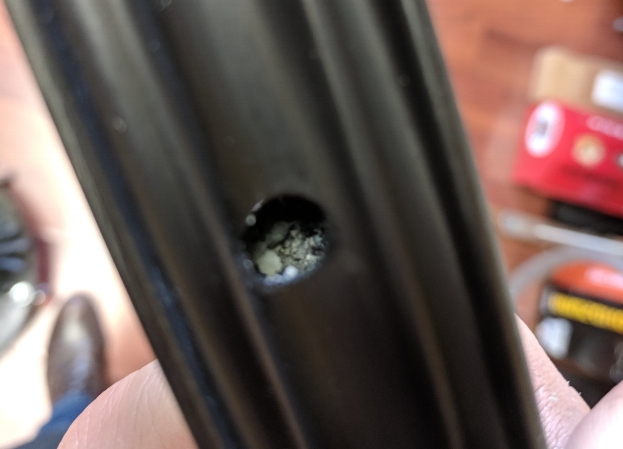 Notice the corrosion in the rim.
Some holes/nipples were more affected than others. Perhaps from how the wheels sat when not in use?
Disassembly, Inspection, Reassembly
Due to the amount of corrosion, I carefully backed tension off so there wouldn't be any catastrophic changes in tension or broken nipples. Unfortunately, one nipple did crumble at the shoulders as soon as I turned the wrench. The rest was pretty straight forward.

Since there was a fair bit of sealant residue and corrosion I decided to clean the inside of the rim as well. My process can be seen here

I decided to re-use the spokes for this build due to the limited use of the wheels. I generally don't re-use spokes for re-builds but with straight pull spokes I felt more comfortable. I go on a case-by-case basis. Lower mileage wheels or wheels in good condition help me make a decision on what direction to go with spokes.

Checking the freehub internals is always important so the re-build can be as good as a new wheel build. It's nice starting from a clean slate once everything is serviced.

Check the photos below for more of my process.
It's important to keep in mind that not every re-build is straight forward or easy. These steps help to get an idea about the quality of the build, the condition of the components, and provide an opportunity to formulate a plan for reassembly. Taking the time to do these steps helps me get an idea for what to expect during the build.

That's pretty much it - the rest is pretty much like a regular wheel build. Please comment or contact me with your thoughts or questions!